Exposure Simulation Testing
An Innovative Method for Exposure Assessment
C&IH's simulation testing chamber provides a unique approach to simulate retrospective, contemporaneous, and prospective workplace exposure scenarios. The chamber is utilized by C&IH to conduct workplace contaminant simulations and to perform bench-scale and full-scale product exposure testing. Designed by an in-house team of certified industrial hygienists and ventilation engineers, the state-of-the-art simulation testing chamber enables historical or present work practices to be created or recreated in a specified and controlled environment. Specific design features that allow real-world parameters to be incorporated into exposure simulations include:
Modifiable wall and ceiling dimensions, and wall and ceiling surface materials;
Adjustable air flow rates into and out of the chamber, including ventilation locations and air changes per hour (ACH); and,
Warehouse enclosure that facilitates chamber contents specific to an exposure simulation.
The adaptable features of the chamber enable the in-depth study of real-time contaminant dispersion associated with specific work practices and product exposures. Modifications to the chamber also facilitate C&IH's ability for conducting simulations to validate historical exposure monitoring data or data generated by exposure modeling.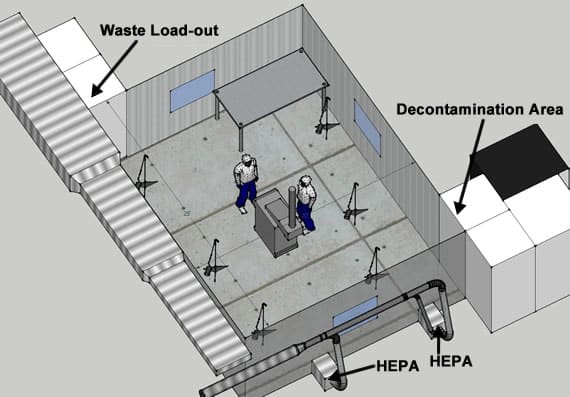 The modular design allows the chamber's shape and size to be altered to replicate the workplace environment while allowing numerous adjustments in ventilation and other real-world workplace parameters.
Exposure simulations are conducted by a C&IH team of laboratory-experienced professionals with advanced degrees and educational backgrounds in analytical chemistry, biochemistry, toxicology, epidemiology, and microbiology, as well as certified industrial hygienists (CIH), board certified toxicologists (DABT), and ventilation engineering professionals (PE). The technical resources of our staff allow C&IH to perform occupational exposure assessments and risk characterizations for a wide variety of industry-specific processes and product-specific exposures. This includes emerging technologies with unknown health risks, such as the printing of molded materials, manufacturing with nanoparticles, etc.
Exposure Simulation Projects
The project examples listed below represent a condensed summary of C&IH's experience and capabilities in recreating occupational exposure. Please contact us to discuss the specific requirements of your project.
Gastric and lung fluid dissolution studies for respirable and non-respirable particles to assist in bioavailability and dose reconstruction
Particle sizing and physical and chemical analysis to determine unique physical and chemical compositional characteristics related to respiratory entrainment, potential lung deposition, and solubility characteristics
Size-specific aerosol generation for particulate collection and analysis in support of dust and fume studies
Evaluation of engineering control measures for crystalline silica associated with sandblasting
Workplace simulation testing for airborne fiber exposures (e.g., asbestos) associated with products manufacturing, handling, installation, and removal processes
Tracer gas studies within existing buildings and workplaces or in the simulation chamber to determine contaminant dispersion pathways and to characterize building occupant exposures during past uncontrolled contaminant releases
In-situ and simulation chamber local exhaust ventilation testing to determine contaminant dispersion, entrainment and suppression, and fume hood optimization to minimize worker exposure
Modeling of actual workplaces or simulated conditions/workplaces using computational fluid dynamics (CFD), and one and two-zone models, to assist in simulation study design, validate testing results, determine relative concentrations of contaminants in workplaces and other areas, and optimize engineering controls