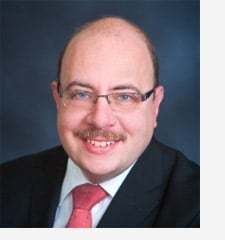 C&IH is proud to announce that Dr. Andrey Korchevskiy, Director of Research and Development, is now a certified industrial hygienist (CIH).
Dr. Korchevskiy first began collaborating with C&IH in 1997 while still in his native county of Kazakhstan. In 2009, he relocated to the Unites States and joined C&IH full-time. Having earned separate Ph.D. degrees in Applied Mathematics and Biology (with specialization in Occupational and Community Hygiene), Dr. Korchevskiy's consulting expertise includes risk assessment and risk management, environmental investigation and mathematical modeling of health impacts on local populations, asbestos exposure and risk assessment, and demographic modeling. He has developed several innovative models for asbestos health risk assessment and is an active member of the Risk Assessment Committee of the American Industrial Hygiene Association (AIHA). He is also a member of the AIHA International Affairs Committee and continually works to improve environmental health in Kazakhstan and other developing nations. As Chairman of the International Task Force for Children's Environmental Health (ITFCEH), Dr. Korchevskiy is one of the recipients of the 2012 AIHA Outstanding Project Team Award.
C&IH congratulates Dr. Korchevskiy for earning his CIH designation and for his ongoing commitment to expand his technical expertise and contribute to the industrial hygiene community.